Andersen
1 Trafalgar Square, Northumberland Avenue London WC2N 5BW United Kingdom
Product design, Graphic design and Fashion design
About us
Andersen is a European software development company that has been helping enterprises across the world to transform their businesses by creating effective digital solutions with innovative technologies since its founding in 2007. The company has opened more than 13 development centers in the USA and Western Europe in that time. We take our work seriously and are passionate about developing innovative solutions that help our clients transform their businesses.
Andersen has completed over 1000 projects and received hundreds of positive reviews. Today, the company is working on over 250 global projects. Our clients: Samsung, Marvel, MediaMarkt, Revolut, Verivox, NDA, Mercedes Benz, BNP Paribas, G Bank, Ryanair, Jonson&Jonson and others. 90% of recurring customers mention that Andersen's advantages are fast delivery, ongoing support, and accessible prices.
Andersen is also the founder of the Charity Foundation. We are fighting for a common healthy future and peace in Ukraine. 3700+ qualified experts are ready to turn your idea into reality. 2022 is going to be a year of digital transformation for all industries. Light Up and Keep It Going.
Get in touch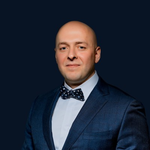 My name is Valentin Kuzmenko, and I am passionate about Development, Mobile technologies, Data Mining and Artificial Intelligence, with good expertise in these fields. Currently, I work as a Chief Commercial Officer / VP of Sales at Andersen. Being a part of the IT family for years, I aim at transforming IT processes in support of business transformation.