Channel 4
124-126 Horseferry Rd, London SW1P 2TX, UK
Film, TV, Radio and Audio production
About us
At Channel 4, we're more than a public service broadcaster, we're a unique and distinctive part of life in the UK.
Channel 4 is free-to-air and freely available to all of the UK. We have the UK's biggest free streaming service, All 4, plus a network of 12 television channels.
Since Channel 4 was created in 1982, it has been at the centre of national conversations and a catalyst for the creation of a world-beating production sector in the UK.
Our purpose is to create change through entertainment. We do this by representing unheard voices, challenging with purpose and reinventing entertainment.
Our unique model – commercially-funded but publicly-owned – means that we're able to offer independent and distinctive, universal content reflecting the interests of different communities across the UK.
As a publisher-broadcaster, Channel 4 commissions UK content from the independent production sector and currently works with around 300 creative companies across the UK every year.
Get in touch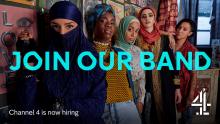 Recruitment Team
recruitment@channel4.co.uk
Organisation benefits
Employee assistance programme
Maternity & Paternity Leave