Creative Access
195 Wood Ln, London W12 7FQ, UK
Campaigning, Government and Policy
About us
Creative Access is a leading diversity, equity and inclusion organisation in the UK with deep expertise across the creative economy.
Our mission is to enable people from communities that are under-represented in the creative industries, in terms of ethnicity, socio-economic background and disability or those facing significant barriers to employment, to access careers, progress and reach leadership.
For talent from these communities, we provide progressive career support and development.
With employer partners, we work to help them build inclusive creative cultures through innovative recruitment programmes, research driven consultancy, bespoke training and much more.
Get in touch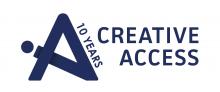 Creative Access
info@creativeaccess.org.uk
Organisation benefits
Maternity & Paternity Leave